EMERGENCY MEDICAL
TRAINING
The Emergency Life Saver course is a two-day program that is built from the ground up by former Military, Law Enforcement and EMS Medical providers – all subject matter experts who have spent years perfecting their trade.
Our course is designed for EVERYONE.
Whether you are an experienced medical provider, or someone with absolutely no prior knowledge on emergency medicine – This course is for you.
Tactical Combat Casualty Care, CPR/AED/First Aid, Mass Casualty and so much more!
CPR/AED/First Aid
Certificate course
American Red Cross Adult & Pediatrics professional certificate

Certification valid for 2 years
Emergency
Life Saver course
Learn how to save a life
Tactical Combat Casualty Care Protocols & Skillset

Identify, Assess & Provide Life Saving Treatment

Conduct Primary & Secondary Assessment

Better Understand the Body & its Functions

Recognize Different Levels of Consciousness
Delayed
Field Care
Course
Save a life when the heat is on

Contact us for more info!
EMERGENCY LIFE SAVER COURSE
Identify, assess and provide life saving treatment when it counts.
Our goal is to teach you the skillset you need to save lives. Learn life saving skills under the stress of real-life scenarios as YOU BECOME A RESPONDER.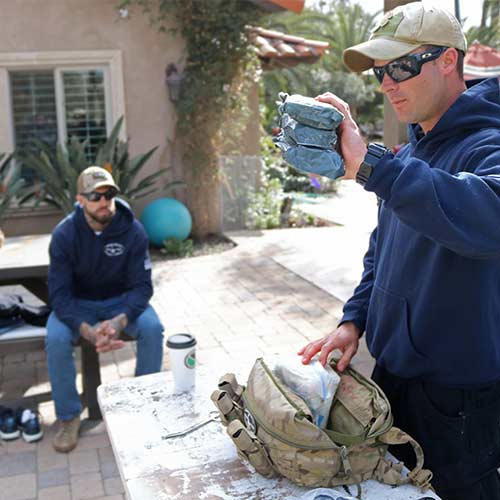 Tactical Combat Casualty Care protocols and skillset
Prepare yourself to identify, assess, and provide life saving treatment.
Conduct primary assessment (under fire), and secondary assessment (in the field)
Better understand the body and its functions.
Recognize the difference between anatomy and physiology, and how the two combine in an emergency.
Recognize different levels of consciousness.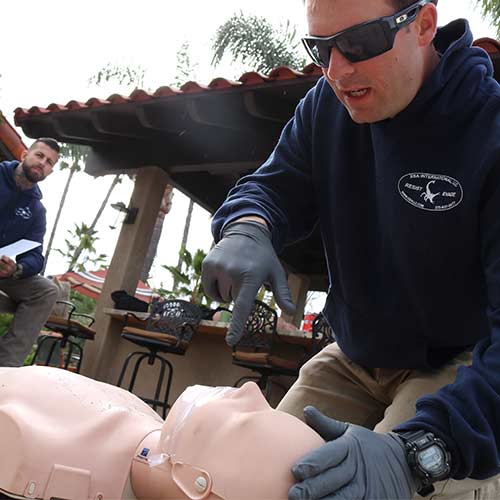 CPR/AED INSTRUCTION & CERTIFICATION
Cardiopulmonary Resuscitation (CPR)
Provide CPR to adults and infants.
Safety and successfully operate AED.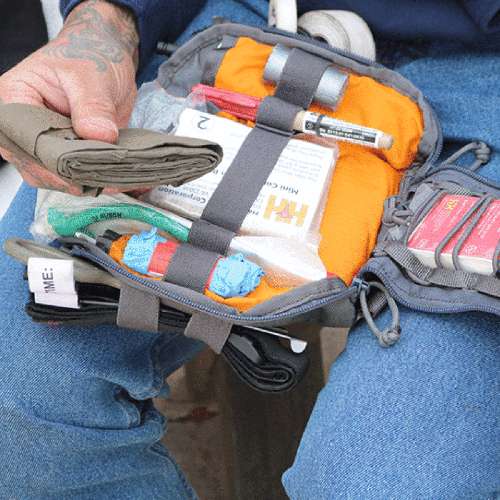 Scenario based training that reinforces all of the previously taught skills.
Evacuate and handle patients, alone and in a team.
Build your own personal emergency kit.
Aquire tools to remember everything years after you have taken the course.
Upcoming Emergency Medical Classes
WHY TAKE AN EMERGENCY LIFE SAVER CLASS?
The outside threats against our own personal well-being have never been greater:
Violent attacks,
growing numbers of traffic accidents, and
ever powerful forces of nature demand us to learn to care for one's self and loved ones against major preventable causes of death.
Our goal is to provide life saving education to service members of every variety as well as lay responders alike. Only knowledge and confidence are going to allow you to step in and make life saving treatments for the seriously ill and injured.
USING INTEGRATED TRAINING METHODS TO COMBAT STRESS DURING A CATASTROPHIC INCIDENT YOU WILL LEARN HOW TO COMBAT THE GREATEST THREATS AGAINST A HUMAN LIFE.
Often times Emergency Responders are not going to arrive in time to make a difference, this places a tremendous need on individual's to learn and master life saving skills for everyday applications.
The goal of reproducing stress during the scenarios is meant to directly impact your response during an actual traumatic event and to help to prevent locking up when lives depend on it!
The premise of our training methodology is such that when someone is exposed to a traumatic event, modern psychiatric guidelines use a form of Cognitive Behavioral Therapy to change the way a person thinks about a situation and in time allows them to overcome many of those stressors.
A specific form of this therapy is called exposure therapy and its purpose is to intentionally encourage a person to relive portions of traumatic events to help to unravel the many stressors involved.
Pre-exposure therapy can be just as beneficial for an individual as post exposure therapy.
The first time you ever do anything in life, how well can you do it?
Now how well can you do that same task under stress if it is your first time?
How about when people's lives depend on it?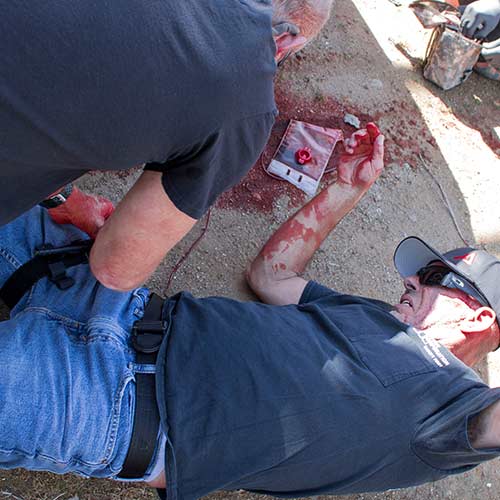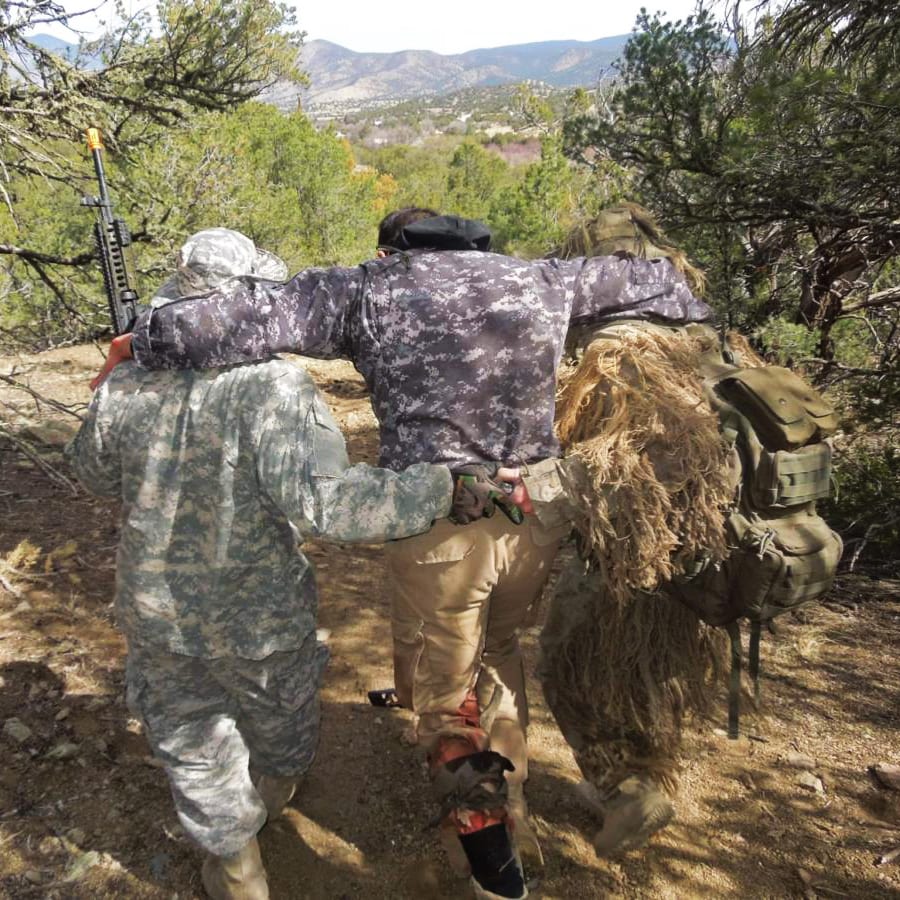 Poor performance during a traumatic event can often lead to complications of PTSD and can manifest as "survivor's guilt." There are five stages of death and dying:
• Denial
• Anger
• Bargaining
• Depression
• Acceptance
IT IS IMPORTANT TO REALIZE THAT A VICTIM OF A TRAUMATIC EVENT CAN JUMP BACK AND FORTH BETWEEN THE VARYING STAGES MANY TIMES BEFORE FINALLY SETTLING INTO ACCEPTANCE.
Educating potential responders of these and many other issues arising from traumatic exposure can act strongly as a force multiplier as it fortifies each individual before a traumatic even has occurred. As we have seen the host of potential threats that mount against us we should begin to recognize the current demand in our communities for everyday heroes to learn new skills to be able to care for the injured and dying.
It is personal experiences in events such as these that have shaped my desire as an instructor to constantly seek out and find the best in tactics, techniques, and procedures in pre-hospital care for every responder. As we attempt to disseminate our own personal experiences and these skill-sets our goal is to bring them to those who need them the most … YOU!
How will you feel when you know you could have potentially saved the one that got away?